The first 2013 Egg week activity, Glitter Eggs, is an excellent craft for almost two year olds. We had so much fun doing this.
Josh saw the supplies for this craft and said "are you REALLY going to let him get a hold of glitter?" and I said "Yes! it will be fine, I will clean up (for the next month :) all the glitter, I promise." :)
I will let the pictures do most of the talking.....
The only difficult thing for [F] through the whole activity was squeezing the glue out of the bottle.
The pie pan really helped contain the mess. I dumped out the excess glitter after each egg onto a sheet and then put it back in the glitter container.
My husband can not stay away from art supplies. He took a short break from his work day to create a glitter egg :)
Here are samples of the eggs created by each of us......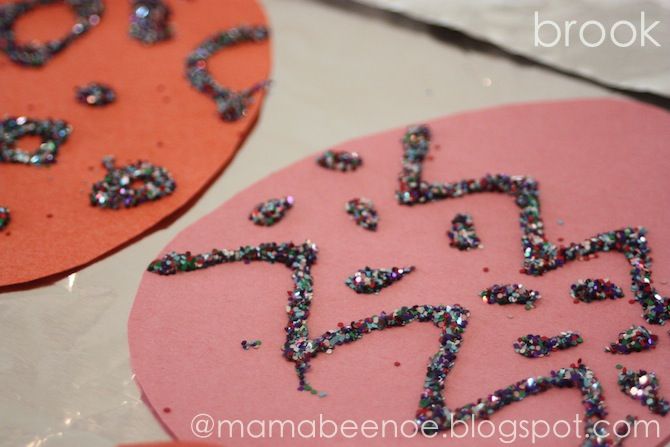 I connected them together with some tape and yarn I had lying around the house. The glitter eggs are now hanging in our kitchen. [F] was so proud of his creation :)
Cost Breakdown
Glitter $1.47
Construction Paper $1.99
Everything else I had at my home already.....
Total: $3.46
Remaining Budget for the Week: $16.54
I realized later in the day that I had glitter on my face :)
Would you try this with your toddler? I would love to know.
- Mama Bee No E