This month was so full of life. April will always be one of my favorite because it is my biggest boy's birthday month. With that I begin with a milestone for [F].
April 4th - Speaking the Alphabet.....trying to anyway :)
I don't remember why this started - but it did. I began reciting the alphabet and [F] would attempt to repeat the letters after me. He was so darn cute.
My big boy got B, C, D, E, H, I, N, P, T correctly on the first go round. We have practiced the alphabet every day since.
April 20th - #2 on the move
[B] has always been a very physical baby...grabbing and pulling on things. But today, he took it to a whole new level - he scaled around his bed while holding on :) such a big boy he is :)
April 21st - #1 turns 2
We held
a birthday party for [F] on the 20th
, but the 21st is his birthday. He had so much fun at his birthday. I can't even believe my first born, blue eyes is already 2.
April 26th - Quality Campfire Time
For the past couple of weeks, my husband's side of the family has had the good fortune of being all together - including his brother, wife, and little boy from overseas (who we haven't seen in over a year). On this night, we had a campfire out at my in-laws (which is gorgeous as you can see from the pictures). I ate way too many s'mores and really enjoyed the time together.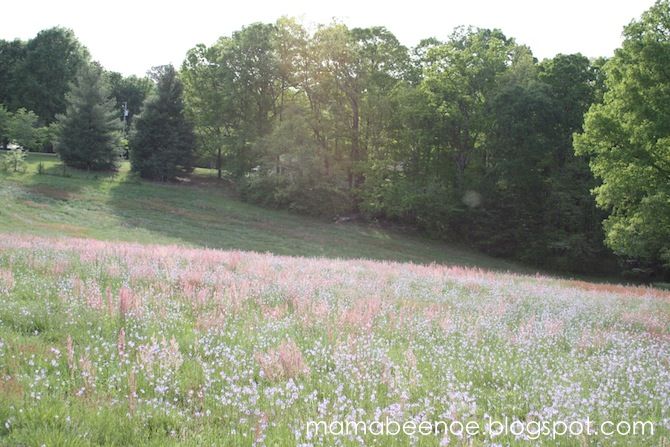 April 30th - Well Checks
Today we took both boys [at the same time] to their check-ups - [F]'s two year and [B]'s nine month.
Both boys did great and got a clean bill of health. So thankful for this.
[B]'s Toes Post Appointment
---
Let's join together and share memories of April with the beginning of a new Mama Bee No E series I am calling..........'Memory of the Month'.
Post a memory you had from this past April in the comment section below. It could be anything big or small. Feel free to include a picture by clicking the.....
image icon within the Disqus comment box.
Also, if you wrote blog post about a memory of yours from April - feel free to include a link within your comment.
I look forward to reading about your April memories :)
---
You may also enjoy....
March 2013
Little #1 Turns 2
This post is part of my
Diary
.
- brook.