Tuesday 4/30
Today I did strength training with the Post-Pregnancy DVD.
As I mentioned before
, I am in a little bit of a rut with this training. I am in between milestones and feel like it has been a while since I have felt a new accomplishment with it. BUT, I will not use that as an excuse to give up. I still have my long term goal of mastering this DVD by July 30th [B]'s first birthday and my plan is to keep at it.
Thursday 5/2
Today, I did Club Dancin' Cardio with my new
May 2013 Playlist
. I was really getting tired of the
songs from April
.....so this new mix has me pumped to get back to dancing. Funny thing I did tonight out of no where - when it got to the Flo Rida song "Club Can't Handle Me", I felt the sudden urge to run.....and I did :) in a loop around my front room into my living room and back again. Something about that song gave me this sudden burst of energy :) My dog, Fig, caught on to what I was doing about half way through the song and she ran with me....probably thinking her mama has lost her mind. It was a good night of cardio.
Saturday 5/4
Tonight was another night of strength training - nothing new to report. The piking series is still the bane of my workout existence.
---
Couple of Smoothie Recipes from this week:
My sisters introduced me to protein smoothies....(I know, I am really late to get on this band wagon) and I love them. It is the perfect lunch for me because that time of day I am all over the place - feeding the kids lunch and cleaning the house. Here are some combinations I have tried.....
Peaches, Spinach, 2% milk, protein, ice.
(make sure to blend extra long to break up the spinach)
Strawberries, Blueberries, 2% milk, protein, ice.
Mango, Peach, Avocado, 2% milk, protein, ice.
A good way to measure amount of liquid is to fill the container you want to drink from 1/2 way with milk and ice (thanks Em, for this tip). As far as the fruit - I just throw some in there and don't measure. It has turned out yummy every time.
This is the protein powder that I have tried from Publix ($13.99 for about 13 oz.) and it is excellent! I will definitely be going back for more once I am done with this.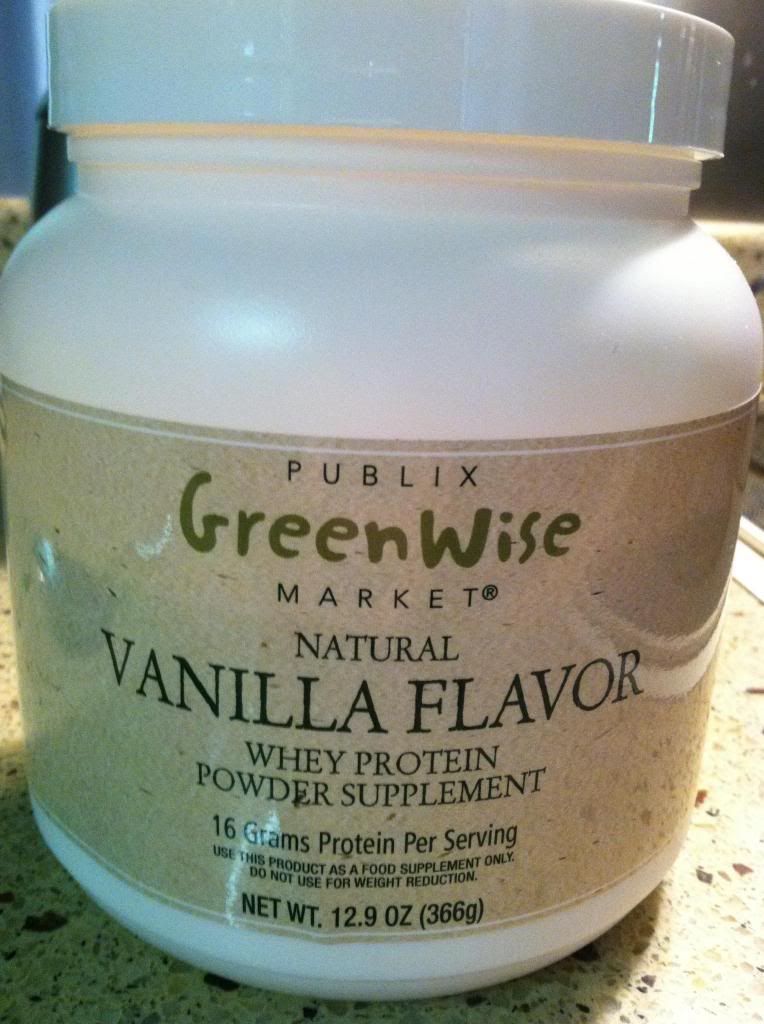 ---
Read more details about my entire workout routine on my
Restoration Page
.
Thanks for reading.
- brook.